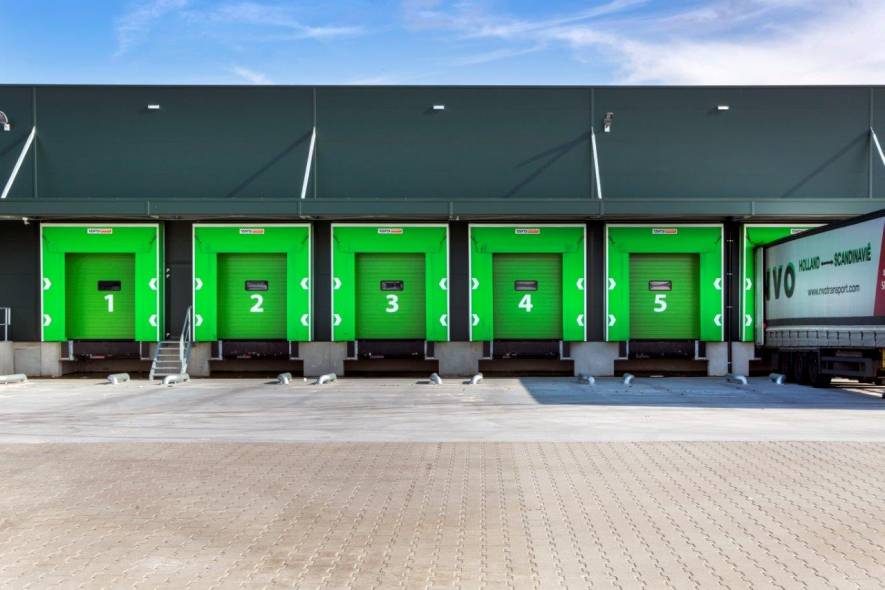 NVO Transport BV in Zuidbroek, Groningen in the North of The Netherlands has invested in a more than 7 acre of warehousing and distribution. NVO Transport is proud of its new buildings and of course the company colours which are a nicely reflected in the new storage facility. Due to their location close to the motorway, they really stand-out. NVO Transport specialises in transporting palletised products between the Netherlands and Scandinavia. A cooperative collaboration of 180 companies. 26 new loading bays were installed, with curtain shelters from the WL series in the company's house style colours of the NVO Transport green.
The 8 tons S-Series of of open hinged swing lip levellers from Stertil as well as the PE bumpers. NVO is located alongside the motorway, they really stand out!
An effective way to increase your brand awareness. The striking green fits very well in the Dutch landscape.
NVO Transport green for the curtain shelters
Mr. Drijfhout, Managing Director NVO Transport BV: ""We are proud of our transport company that consists of 59 different companies and with our new investment project we wanted to reflect this in business park 'De Gouden Driehoek' (The Golden Triangle" in the north of the Netherlands. That is why we chose NVO Transport green for the curtain shelters. We are very happy with the 26 new loading bays that Stertil Dock Products helped us design for our new distribution and storage facility".
Wheel Guides for Accurate Vehicle Positioning

Heavy duty 8 tons Open-Hinged Swing Lip Leveller.

Safe, easy and efficient loading and unloading.