CUSHION DOCK SHELTERS
The Stertil T-Series Cushion Shelters are one of the best available products for loading bays where insulation is required for optimum climate control and energy-saving. The cushions are fixed on galvanised steel back plates and therefore suitable for use at locations with strict environmental requirements. The T-Series Cushion Shelters can be custom-made for every dock situation.
According to BREEAM Standards
Ideal for Cold Storage and Freezer Facilities
Optimum Sealing
Easy Maintenance
Universal Solution
Extra Durable and Optimum Damage Protection
Operational features
Yellow Positioning Markers for Safe Docking

Wear-Resistant Cordura®

Easy Maintenance
Durability according to BREEAM standard
Extra durable and optimum damage and afety protection due to armoured sections on the front side of the cushions with yellow positioning markers.
The sustainability certifcate from the Dutch Green Building Council- BREAAM is based on the excellent results for air infiltration and thermal insulation.
Effective and Durable
Stertil cushion dock shelters are made from top-quality materials.The combination of an aluminium frame and strong reinforced FOAM chushions results in a very effective structure that will last for decades.
For loading and unloading narrow vehicles there are optional bevelled cushions available for bridging the gap between the vehicle and door opening.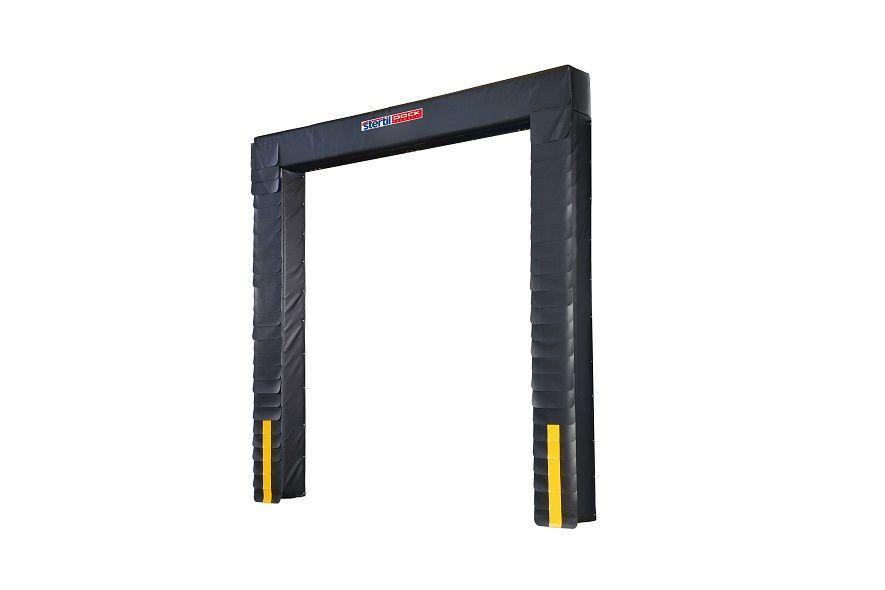 TP-Series Cushion Shelter
The TP-Series Is ideal when vehicles of the same width and height need to dock. The Cushion shelter provides a seamless fit and is a universal solution for a variety of vehicles. With the bevelled option an even wider range of narrow vehicles can dock with a proper seal.
Extra hygienic: standard zinc-coated steel back plate with chemical and mold-resistant materials.
Durable cushion coating vinyl PVC or POWERFLEX® for long life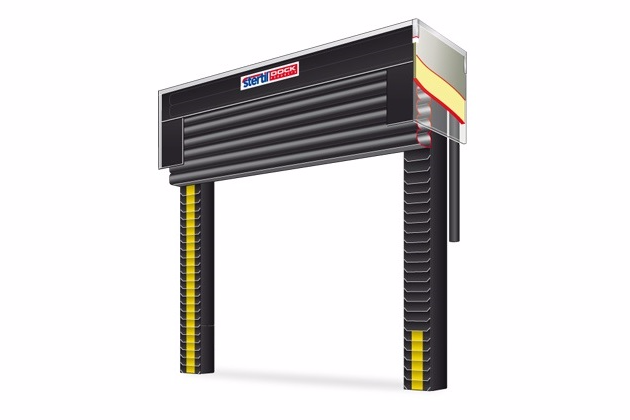 TI-Series Cushion Shelter
When vehicles of varying heights need to dock, the TI shelter with inflatable top cushion and a maximum reach of 1350 mm is the perfect solution. For extra durability and long life, the inflatable top cushion is made from wear-resistant Cordura® material.
Inflation time ~15 seconds, deflation time ~20 seconds.
Easy to operate
Optimum protection of the shelter cushions by use of high quality and robust aluminium sandwich profiles and PVC curtains
Dimensions – Cushion Shelters
| | | |
| --- | --- | --- |
| Standard Dimensions | TP-Series | TI-Series |
| A. Overall Width | 2800mm to 3100 | 3500mm |
| B. Overall Height | 2600mm to 3200 | 3600mm |
| C. Height of top Cushin | 300mm | |
| D. Projection of top Cushion | 270mm | |
| E. Width of Side Cushion | 300mm | 300mm |
| F. Projection of Side cushions | 270mm | 270mm |
| G. Projection of top panel | | 650mm |
| H. Height of inflated top cushion | | 1350mm |