Telescopic Lip Levellers
The Stertil Dock Products X-Series Telescopic Dock Leveller is a highly practical and fully controllable leveller available in a variety of lip lengths up to 1,000 mm and dynamic capacities from 6-8 tonnes, for accurate and efficient loading and unloading. The X-Series is standardly supplied with an auto-park function. With a push of the button the leveller is brought back to its start position.
Climate Control for the Food Industry
Ideal for End-Loads
Optimum Safety
Easy to Operate with Intuitive Controls
Versatile, Wide range of Lip Lengths & Capacities
Operational Features
Extra Support – Two cross Traffic Legs

Continuously Variable Sliding Lip

Suitable for Wide and Narrow Vehicles

Patented 1-Hydraulic Cylinder System

Optimum lip angel of 5.5 degrees
Ideal for end loads
The Stertil Dock Products' Telescopic Dock Leveller is a highly practical and reliable solution. The telescopic lip is fully controllable at variable lengths of up to 1,000 mm. This makes the dock leveller ideal for efficient loading and unloading end loads at the back of the truck. The long chamfers and the lip angle ensure a smooth transition from the dock leveller to the vehicle floor in every situation.
The various installation methods, wide range of sizes and load capacities of 6 or 8 tonnes make the X-Series telescopic dock leveller very versatile.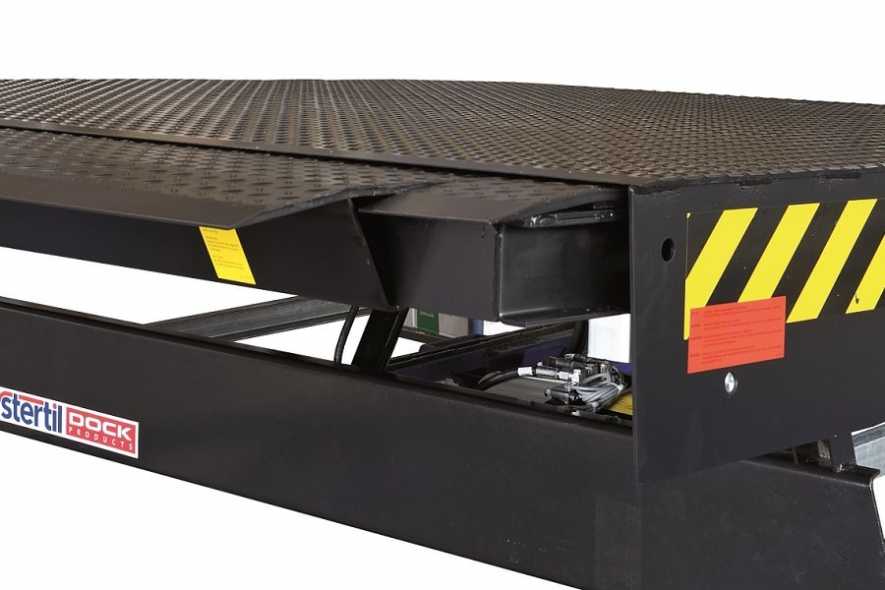 Wide Choice of Lip Lengths
The Stertil Dock Products telescopic lip X-Series levellers offer numerous possibilities and can be customised for your loading ba dock situation. The length of the platform will primarily be determined by the height difference between the warehouse floor and the expected range of vehicle loadbeds.
In order to guarantee smoother loading and unloading with less physical strain, Stertil Dock Products base its sizes on a lower maximum incline than is stipulated by the EN 1398 Directive
Standard Sizes – 6 tons models XP – XF
Theoretical working ranges for "Standard" XF – XP and XFH – XPH Series:
Lengths (mm)
2000**
2200**
2500
2800
3000
3500
4000
4500
Above Dock
600 MM*
340
395
345
385
360
375
410
385
1000 MM*
365
425
395
435
405
415
450
420
Below Dock
600 MM*
380
355
335
325
315
425
370
345
1000 MM*
405
380
375
360
350
460
400
365
Frame Height (mm)
XF – XP
585
585
585
585
585
700
700
700
Standard Sizes – 8 tons models XFH – XPH
Lengths (mm)
2000**
2200**
2500
2800
3000
3500
Above Dock
600 MM*
260
280
315
355
380
365
1000 MM*
285
310
375
410
435
405
Below Dock
600 MM*
350
335
320
380
255
375
1000 MM*
370
370
350
310
280
410
Frame Height
XFH – XPH
585
585
585
585
700
700
Platform width (mm) 1750, 1830, 2000, 2110, 2250
* Calculated with a fully extended 600 mm and 1000 mm lip
** Maximum lip length of 785 mm, for 2000 mm and 2200 mm long models

F = Frame Installation, P = Pit Installation, H = Heavy-Duty, Long life span